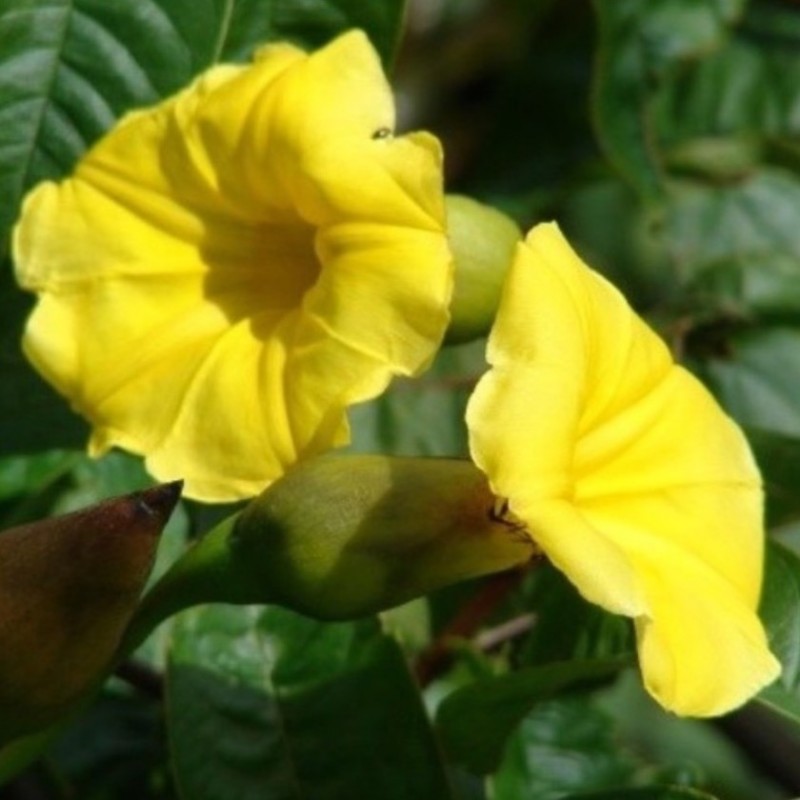  
Merremia Tuberosa Hawaiian Woodrose
Native to Asia, and cultivated in Hawaii, Merremia is an evergreen perennial vine that is hardy to 25 F. Vivid yellow trumpet-shaped blooms begin in early spring and continue until fall, with flowering year round in warmer climates. Following the bloom, a smooth round capsule forms surrounded by 5 petal-like sepals giving the appearance of a wooden rose which is often used by florists for arrangements. Slender vines can grow 20 feet or more and sport lovely 5-7 lobed blue-green leaves in full sun to part shade. For wintering over, can be grown indoors with sufficient lighting, or tubers can be stored and replanted in spring. A very rewarding and easy vine to grow, plant Candy-Pop morning glories and Red Cypress vine along with this variety for a spectacular show of continuous color. Pkt.
All US orders are shipped via USPS at a flat rate of $4.99. International shipping varies by location. In stock orders are packed and shipped within 1-2 business days.
Lightly nick seed and soak in warm water overnight. Sow in moist seed potting mix ½ deep. Keep at 70-74 F. and bright light. Transplant to 3 inch pots, or permanent location when 2 sets of leaves appear. Place in well amended soil in full to part sun. Needs a trellis or fence to climb on. Germinates in 7-21 days.